Many have photography as their hobby or passion which they want to turn into a successful career. However, it's easier said than done for there are various challenges involved in making photography as a career. One need to know the ins and outs of the photography before they foray in the industry. Further, professional gears are very much required to deliver the quality that everyone prefers. Having mentioned that an online presence can reduce the troubles to a great extent.
If you are building a photography website or you are a freelance photographer, your portfolio is something which plays an indispensable role. Your expertise, services, contact details are equally important in helping the potential clients know you better and contact you.
So, are you a photographer looking forward to building an elegant and informative website for your yourself or your business? Then here we are with this Divi Photography Template which will surely cater to all your needs.
Let's have a section-by-section look at the template.
Divi Photography Template features:
Divi Photography Layout: Hero Section

They say the first impression is the last impression. Make sure to have an eye-catchy image, text content and call to action button on the header to convert the visitors into customers. Don't clutter the header with excessive content and a long call to action for it may ruin your entire impression. Guess what! You can even have a slider on the top if you wish to showcase more of your work or provide the visitors of your website more information.
Present your Photography Services Professionally


As the name suggests, the section allows you to mention the photography services that you have to offer. Some of the photography services include product photography, wedding photography, baby photography, food photography, video services, etc. If you have the hands-on experience of any of these services, you can mention them and even give a brief about the same. The section also entails a Call to Action button which redirects the users to the contact form on the page.
Showcase your Projects/Portfolio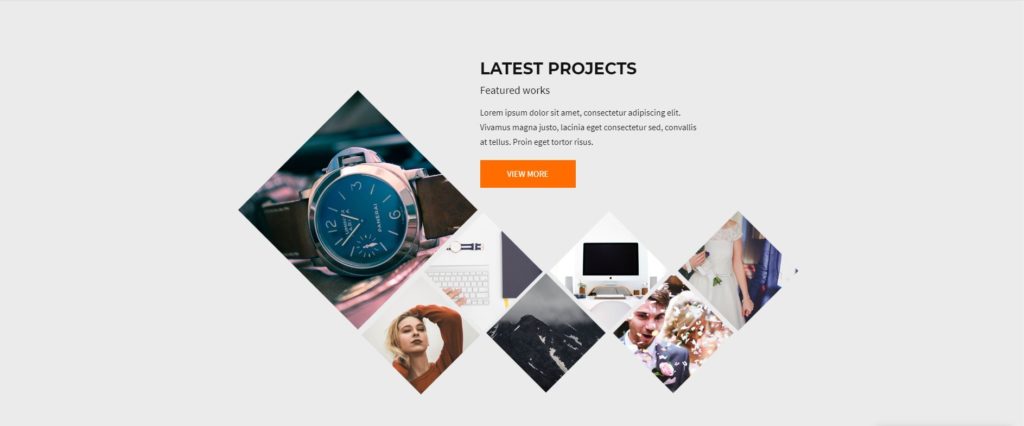 Perhaps one of the favorite sections of any photographers, the 'Projects' section of the photography DiviMonk template lets you showcase your work and portfolio in a creative style. Just select your best projects or images and show them to your potential clients in this section. The section also allows you to describe your work in brief with text content. In case, you want your audience to show more of your work or want them to know more about your work, you can redirect them elsewhere with the CTA button of the section.
Share your Story with the About Section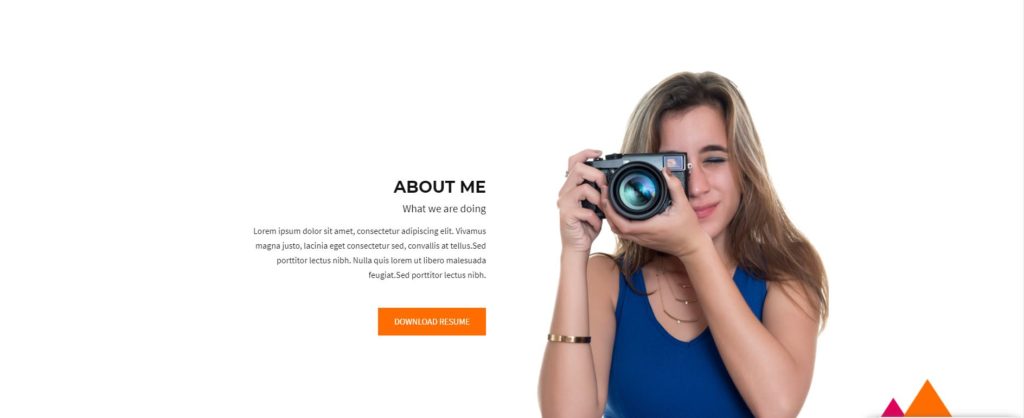 A small intro about yourself or your brand plays an imperative role on any website. It lends credibility and helps in winning the trust of the clients. Here in the introduction section, you can talk about your experience, your past and current projects, your achievements, the gears you use in your projects and things that you believe can help you fetch a client. Apart from your mere introduction, you can even upload your resume, certificate, or any other document that can help you introduce you better.
Add a Catchy Description / Call to action Block
If you can come up with something catchy and effective, then do make sure to leverage this section. A small, simple yet catchy description along with the CTA button can surely help you bag a project. Don't fret if you don't have a catchy tagline for this section. Alternatively, you can even have numbers and insight related to your work or business, for instance, you can mention the number of projects you have undertaken till date, number of clients you have served, etc.
Share your Awards and Recognitions

Time to bring your trophies under the limelight!! The awards section allows you to show your awards and accolades to your clients, potential customers, and the visitors of your website. You can edit the section and place as many awards and recognitions as you want. Also, the section is versatile enough to let you add a title/description to each of your awards. However, it is suggested to keep the text count to low to maintain the minimalism of the theme. Last, this section lets you add button which is quite helpful in redirecting your audience to your contact form or any other section that you like.
Generate leads with Contact Details and Contact Form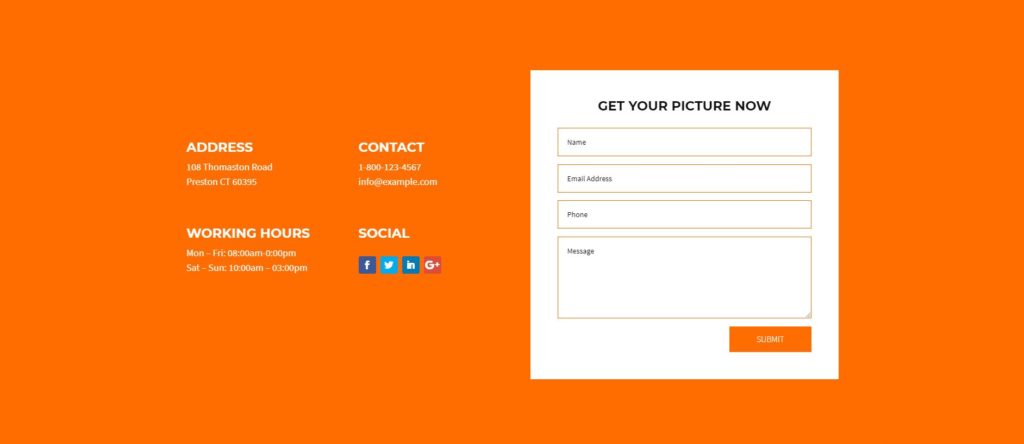 It's the last section of the website where you can furnish your visitors with contact details such as your address, contact number, email address, and other similar information. Apart from these details, the section also gives you a simple form which can help your clients or users to send you their queries, feedback, suggestions, requirement, etc.
Get this Divi Photography Layout & 200+ Templates
Have a robust online presence with this appealing Divi Photography template by DiviMonk. Apart from this theme, you get a host of other templates that you can use for different purposes. All these themes are designed by professional designers so that you can use them right away. They are cloud-based, mobile responsive, and come with multisite compatibility. In case, you come across anything that you need help for, our stellar support is always there to lend a helping hand.
So, what's stopping you from growing your career? Get your hands on DiviMonk Template Library NOW.